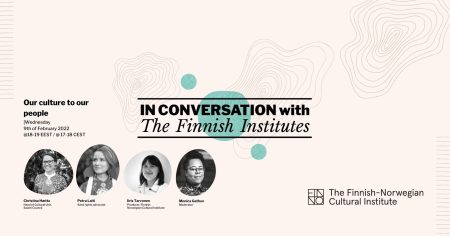 WHEN? Wednesday 9th of Feb 18-19 EEST / 17-18 CEST
WHERE? online
The fourth session of In conversation with the Finnish institutes looks into inner community organising and the ways in which minoritized communities create arts and culture for themselves. Our focus is on the Sámi communities and how they work for their own benefit: producing, creating and curating for their community. This is an episode of FUBU, for-us-by-us mentality, with arts and culture in the center. The guests for the episode are activist and community organiser Petra Laiti, funding advisor at Nordic Culture Point, and curator producer Christina Hætta, the head of Cultural Unit in the Saami council. We will ponder on what and how the Sámi communities create culture and community for themselves.
They are joined by Iiris Tarvonen from the Finnish-Norwegian Cultural Institute. The discussion is moderated by Monica Gathuo.
This seminar is the fourth installment of a 6-part discussion series called "In Conversation with the Finnish Institutes" hosted by the Finnish Cultural and Academic Institutes (Benelux, Berlin, New York, Oslo, Paris, and the UK + Ireland). Each of the 6 discussions, which will take place online from October 2021 until March 2022, will focus on different subject matters from decolonisation to Sámi arts and culture.
Sign-up instructions: 
Please register for the event by clicking the link which will take you to our Google registration form.
About our guests

Petra Laiti is a Sámi rights advocate originating from Anár, now residing in Helsinki. Laiti works as an advisor for cultural grant programmes at Nordic Culture Point. Laiti is also a writer, a musician, and a social media personality, and she frequently uses her platform to raise awareness on Sámi issues in the Nordics.
Christina Hætta is a Sámi from the Norwegian side of the border. She works as head of the Cultural Unit in The Saami council, which is one of the oldest indigenous political organizations still active today. Her background is from the Sámi art and cultural field,  where she has produced several Sámi festivals, and worked as a coordinator and curator in a wide range of genres.