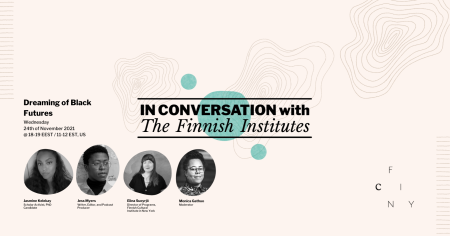 WHEN? November 24th @ 18-19 EEST (FIN) / 11-12 EST (US)
WHERE? online
Welcome to the third session of the In conversation with the Finnish Institutes discussion series hosted by the Finnish Culture Institute in New York! Our guests for the theme Dreaming of Black Futures are writer, editor and podcast producer Jess Myers, and scholar-activist and PhD candidate Jasmine Kelekay. In the discussion we will be imagining what kind of Blackness awaits beyond tomorrow and how it presents itself. We will be pondering on how freedom and joy are intertwined in the future Black creativity and what we can already see happening.
They are joined by Elina Suoyrjö, the Director of Programmes from the Finnish Cultural Institute in New York. The discussion is moderated by Monica Gathuo.
This seminar is the third installment of a 6-part discussion series called "In Conversation with the Finnish Institutes" hosted by the Finnish Cultural and Academic Institutes (Benelux, Berlin, New York, Oslo, Paris, and the UK + Ireland). Each of the 6 discussions, which will take place online from October 2021 until January 2022, will focus on different subject matters from decolonisation to Sámi arts and culture.
About the guests:
Jasmine Kelekay is a scholar-activist and PhD candidate in Sociology at University of California, Santa Barbara with an interdisciplinary emphasis in Black studies. Her work explores how ideas about Blackness are circulated globally yet shaped by local contexts, histories, and intersecting identities. In particular, she studies the relationship between racialization and criminalization, punitive racialized social control, and the ways in which communities organize in response to racism.
Jess Myers is a writer, editor, and podcast producer focusing on urban planning and architecture. Her podcast Here There Be Dragons explores the impact of security narratives and security policy on urban space. She is an assistant professor at the Rhode Island School of Design
Sign-up instructions:
Please register for the event by clicking the link which will take you to our Eventbrite page. Registration for the event will close on 23 November at 18-19 EEST (FIN) / 11-12 EST (US):
https://www.eventbrite.co.uk/e/dreaming-of-black-futures-tickets-212527685027?fbclid=IwAR1ruvgeVeTptIk2Pzw3FXwi11hX7mnW_8aF1qdA5ypNppmn_VKqnnArQBU