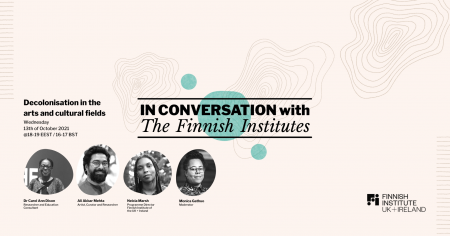 Welcome to the discussion series In Conversation with the Finnish Institutes hosted by The Finnish Cultural and Academic Institutes! The series invites professionals from the arts, culture and science sphere to ponder and discuss modern perspectives on creating and being. The discussions use a collection of antiracist, decolonial and intersectional tools to bring critical perspectives to the mainstream narratives.
The first episode is hosted by the Finnish Institute of UK + Ireland, and it will take place on October 13 at 18. For the first episode we invite Dr Carol Ann Dixon and Ali Akbar Mehta accompanied by Neicia Marsh from the Finnish Institute of UK + Ireland to discuss the concept of decolonisation in the art and culture institutions. This discussion will concentrate on the new perspectives of building cultural meaning and creating new narratives breaking the norms ruling the traditional culture and arts institutions in the Western hemisphere. The discussion is moderated by Monica Gathuo.
We will be pondering on ways to deconstruct institutions and rebuild entities, identities and belongings in the creative work.
Please register for the event by clicking the link which will take you to our Eventbrite page. Registration for the event will close on 12 October: https://www.eventbrite.co.uk/e/decolonisation-in-the-arts-and-cultural-fields-tickets-177981376087
This seminar is the first installment of a 7-part discussion series hosted by the Finnish Cultural and Academic Institutes (Benelux, Berlin, Middle East, New York, Oslo, Paris, and the UK + Ireland). Each of the 7 discussions, which will take place online from October 2021 until January 2022, will focus on different subject matters from decolonisation to Sámi arts and culture.